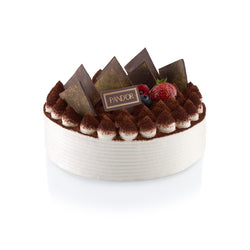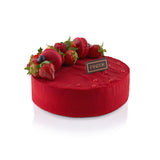 Product Description: Tiramisu
Tiramisu: Fresh, colorful, and decorated with assorted fruit, filled with
rich pastry cream, on a deliciously sweet pastry crust

Ingredients
Our classic Tiramisu Cake is a layered sponge cake infused with
Italian espresso, mousse, rum and cream.

Product Description: Raspberry Tiramisu
Tiramisu Raspberry: A twist on an Italian favorite. lightly layered with vanilla sponge cake, raspberries, and creamy mascarpone filling.

Ingredients
Flour, Sugar, eggs, vanilla, raspberry, whipped cream, mascarpone cheese

Note
This product is available daily.
Especially for the last cake order at 7 pm, if you want it to be picked up today
For sizes 24 cm, please place your order at least 2 days in advance.
For next day delivery, orders must be placed before 2:00 pm the day before. Please note that we cannot specify the time for next day deliveries.
We always recommend placing your order 1 to 2 days in advance of the delivery/pick up date to avoid any issues. 
Please note that all cookies, cakes, and hampers are subject to availability. For any questions or inquiries please contact us.