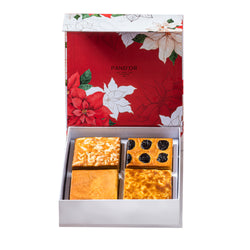 Our Lapis Legit is must for special celebrations such as Chinese New Year, Christmas, or Eid. Known as a
thousand layer cake, it is a very rich and very tender cake, and infused with spekkoek aroma.
Ingredients:
Flour, Sugar, eggs, butter, spekkeok powder
Note :
10 x 10 cm each Four assorted flavours of our layer cake.
This product is made to order.
Please order this product at least 2 days ahead of the pick-up/delivery schedule.
Please note that all cookies, cakes, and hampers are subject to availability. For any questions or inquiries please contact us.