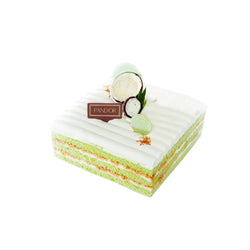 Product Description
Our Kelepon cake is a traditional Javanese green-colored ball of rice cake filled with liquid palm sugar and coated in grated coconut.

Note
This product is available daily.
Especially for the last cake order at 7 pm, if you want it to be picked up today
For next day delivery, orders must be placed before 2:00 pm the day before. Please note that we cannot specify the time for next day deliveries.
We always recommend placing your order 1 to 2 days in advance of the delivery/pick up date to avoid any issues. 
Please note that all cookies, cakes, and hampers are subject to availability. For any questions or inquiries please contact us.